Rlk's "Annie"
Retired
Sire: FC, AFC WAY-DA-GO CALL OF THE WILD
Dam: WINDYRIDGE'S CINDERELLANOTAFELLA (FC Watermarks Texas Welcome MH)
Annie is 3/4 sibling to FC Maestro
Whelped: 4-21-11
Eye Cerf, clear. Ofa, Good.
Certified Pointing Retriever, Chocolate Female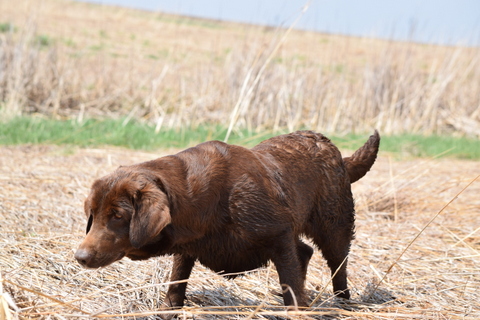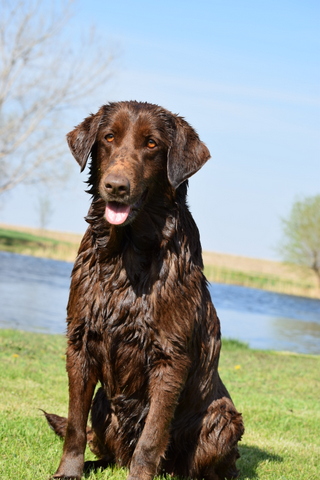 Annie is a hard charging, built for speed girl out of some of the best FC AFC dogs that throw point. As her pedigree suggests she has intelligence, a ton of go and gives 110 %. FC AFC Way-da-go Call of the Wild "Drake" has titled pointing offspring as has her Grand sire on the bottom side, FC Watermarks Texas Welcome. This Pedigree is loaded with Intelligence, drive, and POINT. Its hard to say there is a better chocolate pedigree with point than this. Annie has proven to hold more than her own weight in the field as a guide dog. Her nose, point, marking, hunting desire, natural abillity and intelligence is off the charts.
 Annie's Pedigree

Parents

GrandParents

GreatGrandParents

SIRE 

FC AFC

WAY-DA-GO CALL OF THE WILD

 FC AFC CUDAS BLUE RYDER MH

FC AFC

BARRACUDA BLUE
HIGHER GROUNDS HELEN KELLER
WAYDAGO ANSWERED PRAYER

FC AFC

RIVER OAKS WAY-DA-GO ROCKY

AFC

CANDELWOODS OPRAH WIN-FOR-ME

DAM

 WINDY RIDGE'S CINDERELLANOTAFELLA

FC, HRCH

WATERMARKS TEXAS WELCOME

MH

NAFC FC AFC

EBONSTAR LEAN MAC

FC AFC

GATOR PT'S SWEET POTATO PIE
WINDY RIDGE'S KENTUCKY JADE

GRHRCH, UH


DAKOTAS CAJUN ROUX

MH

HAILEY JAM'S GINGER SNAP