4 x GMPR, HRCH  RED LABELS RUDY
(five master hunter passes)
OFA GOOD, EYE CERF CLEAR, EIC, PRA, CNM, SD2 CLEAR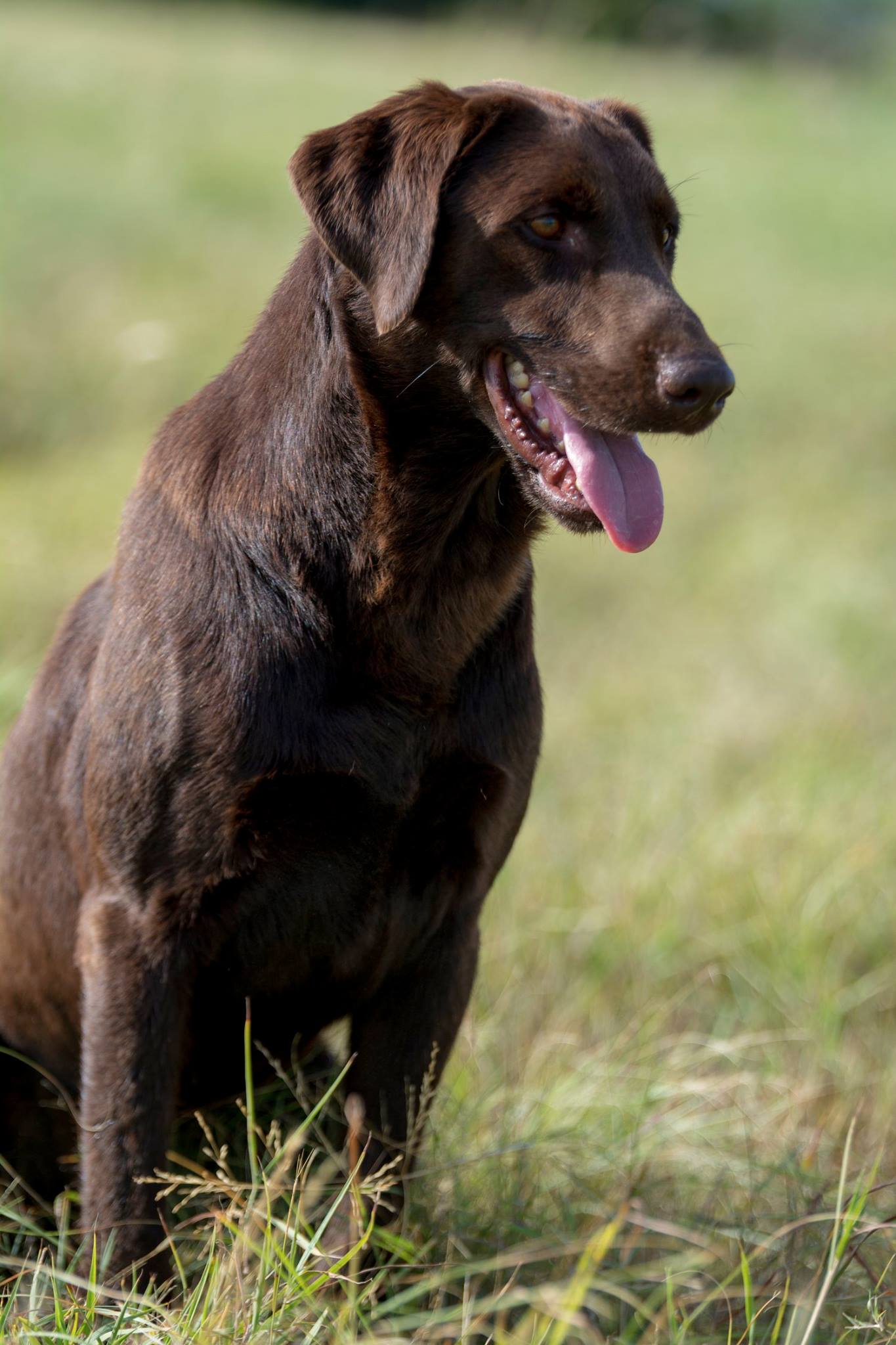 Prior to Rudys breeding we researched numerous breedings. We noticed some trends in chocolate pointing labs, the pedigrees were very close to one specific line.  So many in fact that the future was alarming since the gene pool of GOOD CHOCOLATE POINTING RETRIEVERS is already small. With this in mind Rudy was bred to have strong Retriever Skills, Strong Point and upland ability from a blend of proven field trial and APLA Hall of Fame lines.  Rudys pedigree matches up well with most of today's top lines by providing a great out cross option.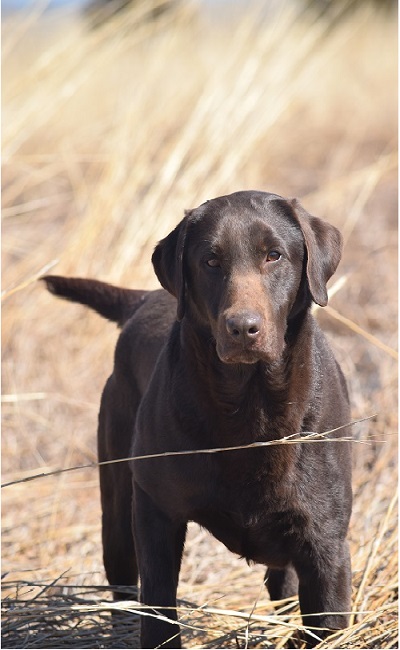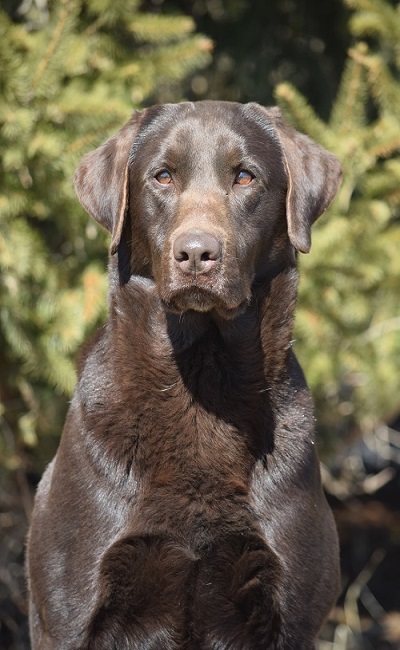 Rudy earned his Certified Pointing Retriever title at 9 months of age showing his natural, strong point.  As a pup Rudy did well in the water and loved to train at a very early age.
We hunted Rudy at one year old, using him as a guide dog. He did a very nice job, advancing every day and was a joy to work in the field. His work ethic and drive to find birds was very encouraging. His ability in the field convinced us he deserved an opportunity to earn upper level titles.
In the spring of 2017 Rudy received his Hunting Retriever title with the Hunting Retriever Club. In the fall of 2017 he received his Master and Grand Master titles, then a 1.5 x Grand Master Pointing Retriever title with the American Pointing Labrador Association.
Rudy earned his Hunting Retriever Champion title (HRCH) in the fall of 2018 with the Hunting Retriever Club. 
 In the spring of 2019 we finished Rudys APLA career with a 4 X GMPR title. On to an AKC Master Hunter title, to date Rudy has 5 AKC Master Hunter passes. We planned to get his 6th and final pass to finish his Master title in 2020 however with the Covid 19 virus, AKC tests have been cancelled.
Working on "suction" with a 220 yard blind with Rudy at 16 months.
                                    Rudys pedigree has a blend of Field Trial dogs known to pass on point, as well as American Pointing Labrador Association Hall of Fame bred dogs.  Rudy is not yellow factored.
Red Labels Rudy 4 x GMPR, HRCH


Parents

GrandParents

GreatGrandParents

SIRE

HR LANDMARKS ICE BREAKER

AFC, CFC, CAFC CHUGACH HILLS JAZZS RASCAL ( sire of numerous GMPR 's)

FC, AFC

 JAZZTIME (sire of numerous pointing labs)

AFC, CFC, CAFC

TRIEVEN CLASSICAL JAZZ
JUMPIN JESSICA II
Beavercrest Stukagain blue

NAFC, FC, CNFC

  PIPERS PACER
GIRL OF NORTH

HRCH

 BLK FOREST SPRING ACTION MISS ( 5 straight master passes pre injury) strong point
GMPR, MH GUMBO OF BLK FORREST (APLA HALL OF FAME)


AFC

, TWIST AND SHOUT MH, (

APLA HALL OF FAME

)
TRIEVEN SARAH
Spice of BLK Forrest (sired by APLA hall of fame member GMPR Sir Hershey of Surrey)

GMPR

SIR HERSHEY OF SURREY  (

APLA HALL OF FAME)

TRIEVEN ANN TEAK

DAM

CPR RAILROADS IT's A HARD KNOCK LIFE "ANNIE"

Sibling to FC Maestro

FC, AFC

 WAY-DA-GO CALL OF THE WILD "Drake" sire of numerous pointing dogs
FC, AFC, MH CUDAS BLUE RYDER

FC, AFC, CFC, CAFC 

BARRACUDA BLUE MH
HIGHER GROUNDS HELEN KELLER
Way-da-go Answered Prayer

FC, AFC

RIVER OAKS WAY-DA-GO ROCKY

AFC

, CANDLEWOODS OPRAH WIN-FOR-ME
Windy Ridges Cinderellanotafella

FC, HRCH, MH SRS Winner

 WATERMARKS TEXAS WELCOME "Howdy" Sire of numerous pointing labs

2xNAFC, 2xCNAFC, FC, AFC, CFC, CAFC

EBONSTAR LEAN MAC

FC, AFC, HRCH

, GATOR PT's SWEET POTATO PIE
Windy Ridges Kentucky Jade

3X GRHRCH, UH

DAKOTAS CAJUN ROUX

MH


———————————————————


SHR, HAILEY

JAM'S GINGER SNAP
Stud fee $1000 to approved females.
Your female must come with a clear brucellosis test completed no longer than three weeks prior to breeding.
Genetic Test Results from Paw Print Genetics:
Call Name: Rudy
Registered Name: Red Labels Rudy
Laboratory #: 33738
Registration #: SR91146808
Microchip #: 956 000009612249
Certificate Date: Aug. 26, 2016
Centronuclear Myopathy PTPLA WT/WT Normal (clear)
Degenerative Myelopathy SOD1 WT/WT Normal (clear)
Exercise-Induced Collapse DNM1 WT/WT Normal (clear)
Hereditary Nasal Parakeratosis SUV39H2 WT/WT Normal (clear)
Progressive Retinal Atrophy, Progressive Rod-Cone Degeneration PRCD WT/WT Normal (clear)
Retinal Dysplasia/Oculoskeletal Dysplasia 1 COL9A3 WT/WT Normal (clear)
Skeletal Dysplasia 2 COL11A2 WT/WT Normal (clear
Title explanations:
GMPR, Grand Master Pointing Retriever APLA's Highest level of pointing retriever. Dogs must pass pointing, steadiness, marks, blinds on land and water. The Grand Master title is attained after the second master level pass. The highest title in the American Pointing Labrador Association is a 4 X GMPR. Your dog will have passed 8 master level tests to earn a 4 X GMPR.
CPR, Certified Pointing Retriever, Dog must compete in APLA test event and pass pointing and retrieving standards on land and retrieving standards on water.
HRCH, Hunting Retriever Champion. Dog must be registered with the United Kennel Club. Must do Blind retrieves with poison birds or diversions, must mark well on land and water and handle crisply. The UKC has very tough yet natural hunting scenarios.
Qaa, Quallified all age, qualified to run open field trials in AKC events.
AFC, Amature feild trial champion, Dog must compete in and win field trial and be handled by owner not a hired pro.
FC, Field Champion, must compete in and win Field trial handled by a hired pro.
MH, Master hunter must pass AKC hunt tests to the level of very challenging blinds triples poison birds on land and water and more.
SH, Senior hunter must pass AKC tests includes blind retrieves marked retrieves on land and water.
AKC American Kennel Club
APLA American Pointing Labrador Association