Chocolate Pointing Labrador at Stud
1.5 x Grand Master Pointing Retriever
RLK's Eye of the Tiger "Rock"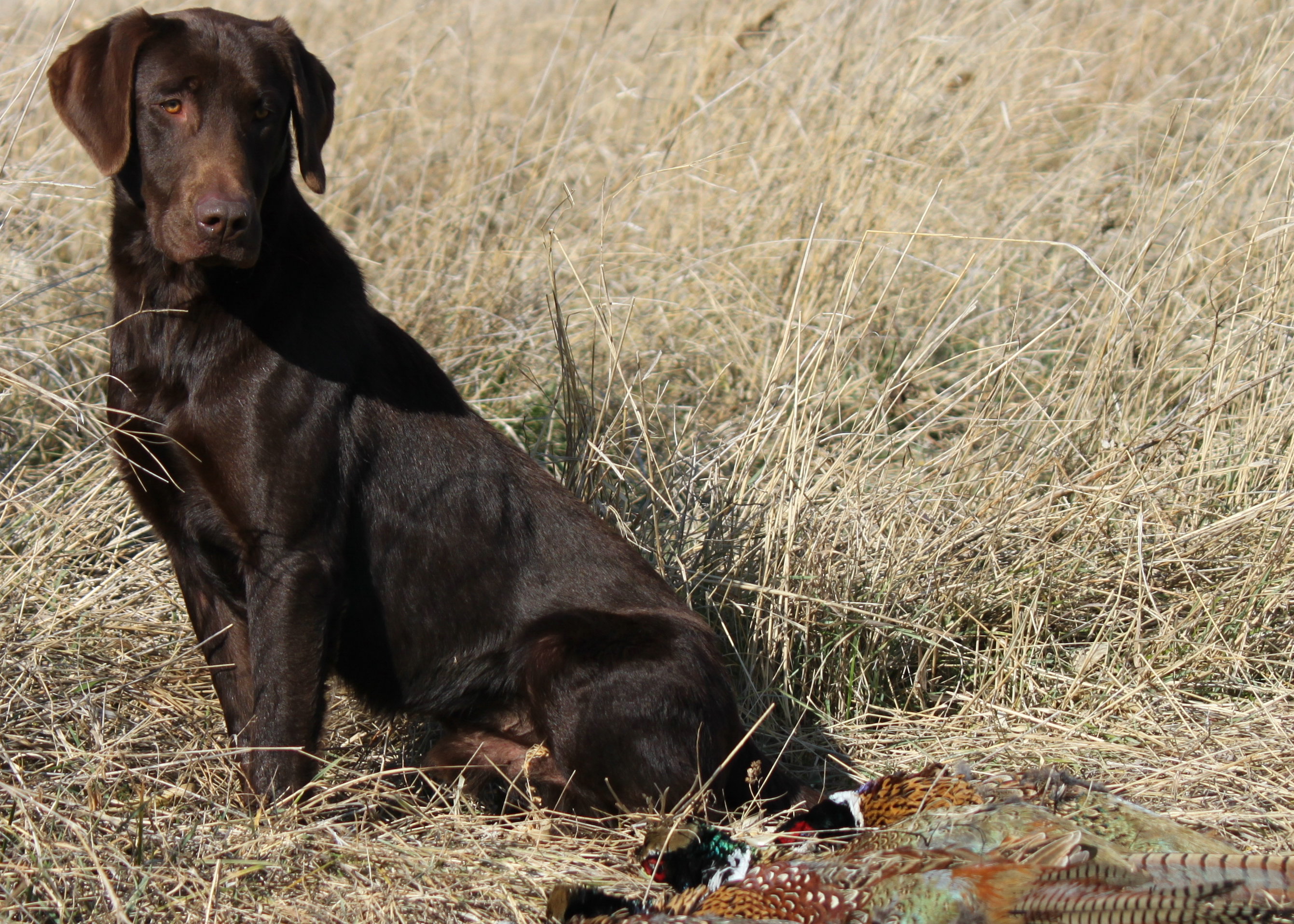 RLK's Eye of The Tiger "Rock" 1.5 x GMPR Chocolate Pointing Lab at Stud.
EIC clear, OFA good, CNM clear, Eye Cerf normal.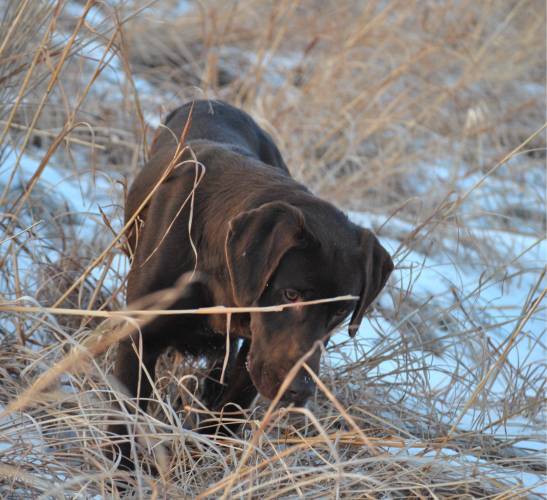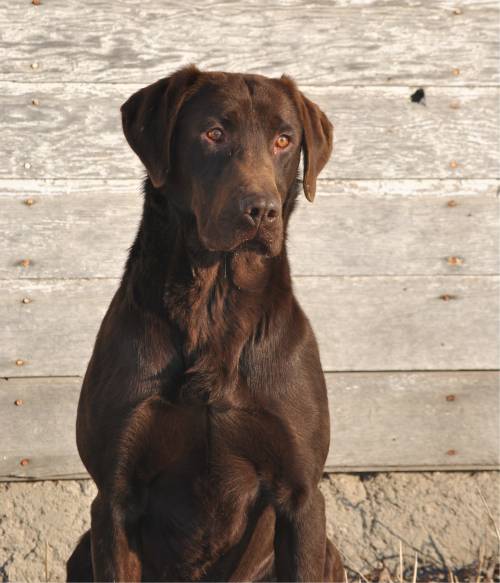 Rock is an energetic chocolate pointing lab with an infectious personality. He has a "Rock" solid point and great retrieving desire. We are very pleased with his ability in the field. He marks very well, has great memory and hunts extremely hard. Rock is a top tear upland dog. This guy has guts, he absolutely NEVER quits. He simply loves to work, digging out birds in the cattails or laid over cane in late season. Rock is gonna be where the toughest cover is working his tail off. Rock is a real team player in the field.
Rocky loves the water to say the least. This dog is totally uninhibited by any adversities in the water. He simply goes over, threw or under anything in his path while making a water retrieve.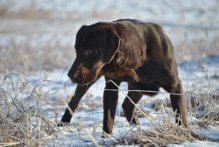 The litter Rock was born in has turned out to be a great Pointing labrador breeding. The five pups that ran in his litter earned CPR titles by apx one year of age or less. Every pup that ran in his litter titled. Every dog that trained for advanced titles has accomplished what they set out to do. That should say something about what to expect from Rocks prodigy. If your looking to strengthen the point in your next litter take a look at "Rock".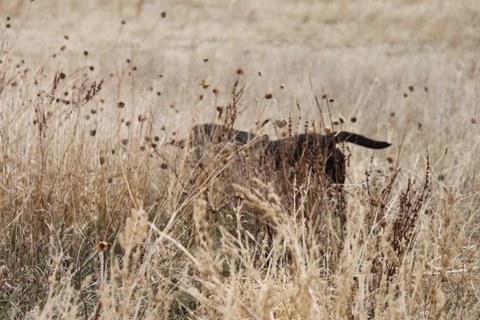 Birds can run but they cant hide!
This is a picture of Rock after being on point for apx 3 minutes waiting for a gunner to arrive to harvest the bird.
Rock ran in the APLA's Michigan test at Omega farms and attained his APR and Master titles on his second birthday in 2011. Rocks upland showing was truly awesome. He pointed his allotted number of birds each time he ran with intensity and style. Rock has done all age water work. His memory and marking skills are great. Rock ran in Michigan again in 2012 and attained his Grand Master Pointing Retriever title, once again putting on a show in the upland. Rock has a great attitude around everyone and is good in the kennel and truck. He is a very dark chocolate good looking 70 pound male. Rock has produced numerous litters with ten pups.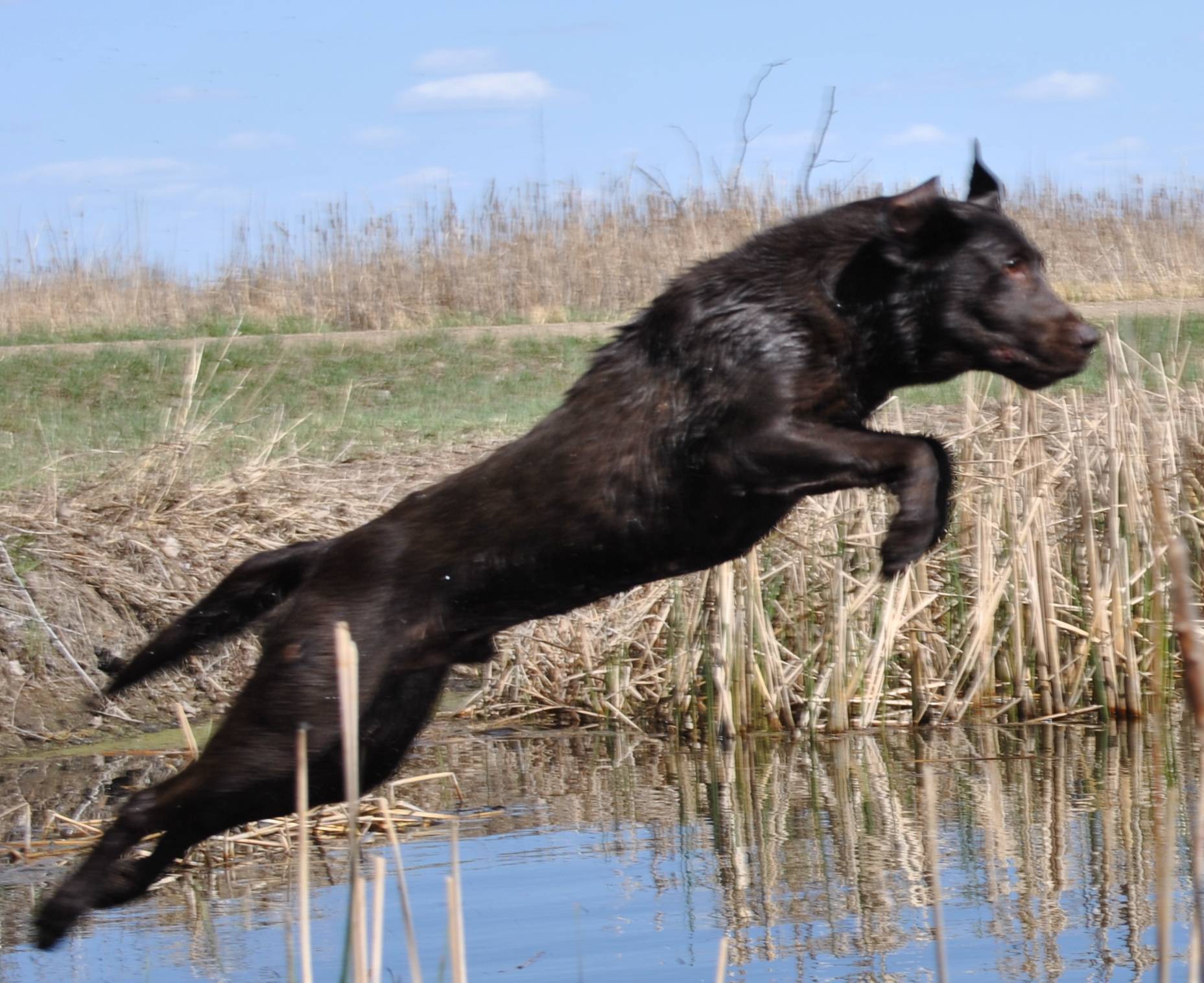 Rock received a standing ovation after passing his water series to earn his GMPR title.
This is a short video of a Rock pup on one of his first birds. No bird work done prior to this so he is a bit raw. This is what we expect to see early from Rocks off spring.
---
Thirty five American Pointing Labrador Association titled dogs 1.5 x GMPR Rock has sired:
Click on the dogs name to find more information 
Pedigree for 1.5 x GMPR Red Labels Eye of the Tiger "Rock" Grand Master Pointing Retriever Chocolate / yellow factored.
Sire




GMPR, HRCH




TIGER OF CATTAIL CORKEY blk

Sire




GMPR


CASHZINGERS CATTAIL CORKY blk
APLA HALL OF FAME

Sire




MH




WYVERNAXE AUDLEY


(ukg) ylw

Sire


BELLEVER ACTOR (ukg)


Dam


MADFORD SILK OF WYVERNAXE (ukg)

Dam


CHILBROOK SAXTON TEAL
chlt

Sire


MAJESTIC SAXTON

CH


blk (ukg)

Dam


CH
CHILBROOK SOLITARE

CD

blk

Dam




CP




HPK"s AGAINST THE WIND ylw

Sire


AUTUMN OAKS OVER N UNDER ylw

Sire




FC AFC

THE MARATHON MAN

ylw

Dam


AUTUMN OAKS SOUTHERN CROSS blk

Dam




LADY ROBIN HOOD OF THE SOUTH

SH


blk

Sire




BLACK JACK DAVY


blk

Dam


LADY MONTANA OF MONROE
ylw

Dam




CP




HRK's RIP ROARIN RIPSY OF SCK


ylw

Sire




MPR




DEVINS YELLOW JACKET

JH


ylw

Sire




GMPR MH




HIGH SIERRA KODIAC




ylw

Sire




GMPR




SIRS MIGHTY ELI SH


blk

Dam




GMPR


BLACKWATER LEXUS
blk

Dam


JADES FOXY ROCKSEY


Full sister to Wannamakers Hot Tub




blk

Sire




DONT EAT THE SNOW




QAA

.
blk

Dam


WANNAMAKERS EBONY JADE
blk

Dam


HEARTBREAK'IN MATTIE MADISON
ylw

Sire


GIZZMO THE BOZZ PHILLIPS
ylw

Sire


HERZOG'S HEARTBREAK'IN HOSS
chlt


Dam


SASSY LADY MORK
ylw

Dam


JIMS LAST CHANCE
ylw

Sire


ALLI COTTON PICK'IN GATOR ylw

Dam


SADI'S DAKOTA DREAM
ylw
If you would like to breed to our Pointing Labrador, 1.5 x Grand Master Pointing Retriever "Rock": Please be sure your female is near estrus, please have your vet do progesterone and cell fold testing to correctly time estrus. Boarding fees may apply if your dog is here more than nine days, trips to the vet may also require reimbursement. Your veterinarian must conduct a brucelosis no more than three weeks prior to breeding.
Give Scott a call to talk about breeding and discuss our requirements. Stud Fee, $1000 total, deposit $250 prior to shipping semen or when leaving your female. When using frozen semen your vet will need to arrange shipment the as soon as your female starts her cycle. 605-680-0588
Below is a note we received from a fellow that hunted with Rock and was impressed enough to send an email about him.

From Randy:
" Being a Lab owner myself I'm very partial and can't say enough how this dog hunts. I was very impressed how intense Rocky's points were. When I'm ready for a new Lab I will definitely consider Rock's blood line."
Title explanations:
GMPR, Grand Master Pointing Retriever APLA's Highest level of pointing retriever, dog must pass pointing steadiness triple marks blinds on land and water. The test is the master test Grand Master is attained after the second pass. A four time GMPR will have passed 8 master level tests.
CPR, Certified Pointing Retriever, Dog must compete in APLA test event and pass pointing and retrieving standards on land and retrieving standards on water.
HRCH, Hunting Retriever Champion. Dog must be registered with the United Kennel Club. Must do Blind retrieves with poison birds or diversions must mark well and handle crisply. The UKC has very tough yet natural hunting scenarios.
Qaa, Quallified all age, qualified to run open field trials in AKC events.
AFC, Amature feild trial champion, Dog must compete in and win field trial and be handled by owner not a hired pro.
FC, Field Champion, must compete in and win Field trial handled by a hired pro.
MH, Master hunter must pass AKC hunt tests to the level of blinds triples poison birds and more.
SH, Senior hunter must pass AKC tests includes blind retrieves marked retrieves on land and water.
AKC American Kennel Club
APLA American Pointing Labrador Association