Please scroll down to see complete information on our litters
Scott Olson
Red Label Kennels, Po Box 133, Corsica SD 57328
605-680-0588
4xGMPR, HRCH Red Labels Rudy
x
CPR, Java
Pups Born May 2022
Pups are EIC, CNM, PRA, SD2 clear. Parents are OFA good with clear eye cerfs and clear on EIC, CNM, PRA, and SD2. Four males available, raised in a family home acclimated with children and pets.
Rudy and Java are guide dogs in our upland and waterfowl guide service. Their natural talents have been passed on to pups in their previous litters. 
Please see each parents page for more pics and details.
Drastically reduced price, pups are ready to go home now!
$500 each. Pups come with 26 month guarantee.
Please see the video of a 4xGMPR, HRCH RUDY x CPR JAVA PUP training with his owner.
Above, is Chief, doing a triple retrieve, at seven months old. Chief is a Rudy x Java pup from a previous breeding, he is the second dog his owner has ever had, and is 100% amateur trained by his owner.
---
PUPS BORN 11/1/21 2021
4 x GMPR, CREW x CPR Blake 
Males available.
EIC, CNM, PRA,  GUARANTEED CLEAR
SIRE: 4 x GMPR High Calibers Atta Boy Crew
HIPS OFA Good, Elbows Normal
EYE CERF Clear, EIC, CNM, PRA, Clear 
DAM: CPR BLAKE
HIPS OFA GOOD, ELBOWS Normal
CLEAR EYE CERF,  EIC, CNM, PRA, SD2 CLEAR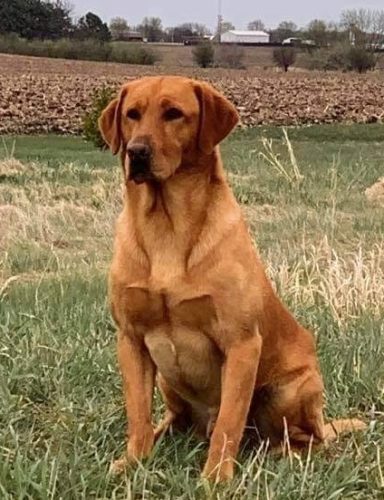 Please note the pedigree has a blend of American Pointing Labrador titles, Hunting Retriever Club titles and AKC titles. Pups from previous Blake litters have pointed great, many are in commercial hunting homes.
The sire" Crew" has Master Hunter passes and to the date of this printing hasn't failed yet. Crew qualified for the prestigious Triple Crown in the fall of 2021 and is amateur trained. He is hunted and campaigned as well as a personnel companion. He is built nicely with a very nice pedigree.
The dam "Blake" is an exceptional hunting family companion. Blakes intelligence, looks and natural point combined with her disposition make her one of the "nicest" dogs I've had in nearly 28 years. Blake lives in the house with "her" children and other pet. Both of Blakes parents are 4 x GMPR, HRCH, MH titled, it's very hard to find pedigrees of this quality.  Blake also is guide dog with staunch point and nonstop retrieving desire. Your deposit of $300 saves your pick.  Please call Scott at 605-680-0588.
 Please note NEARLY EVERY dog in this pedigree has a title. 
Pedigree

Parents

GrandParents

GreatGrandParents

SIRE

4 X GMPR, HIGH CALIBERS ATTA BOY CREW

4 X GMPR WILKMANS BUDDY

4 X GMPR, MH, HRCH ARROWPOINTS KENAI MIDNIGHT SUN  
SAUK RIVERS AMBER DAWN OF SEAFIELD

CPR

HIGH CALIBERS BURN IT DOWN
4 X GMPR, SH HIGH CALIBERS GROOVY LITTLE TROOPER
CPR, JH  EAST POINTS SMASHING SOPHIE

DAM

CPR   SUNSHINE THROUGH PHOG NAMASTE TGK   "BLAKE"

4 x GMPR, HRCH, MH 

BLACKJACKS PHOG ALLEN

 1.5 X GMPR, MH, QAA

CALUMETS WILD CARD

2.5 X GMPR

TIOGA POINT CHARDONNAY
 

4 X GMPR, HRCH,

TDK'S LITTLE ANNS MAKIN DUST MH

FC, AFC, HRCH 

DOWNTOWN DUSTY BROWN
CPR TDK'S PUTTIN FOR BIRDIE
---
Planned 2021 litter
4 x GMPR, HRCH, RED LABELS RUDY
RLK'S ON THE DOT "SPOT"
ALL CHOCOLATE LITTER REPEAT BREEDING
PARENTS ARE
EIC, PRA, CNM CLEAR
OFA GOOD WITH CLEAR EYE CERFS
SOLD OUT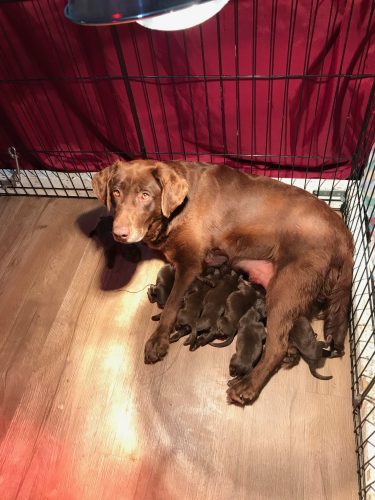 Spot with her 2020 pups
MORE INFO TO COME. FOR NOW PLEASE CHECK EACH PARENTS PAGE
---
Picking your new Puppy.
Your picking order is established once we have received your deposit according to when your deposit is received. You must state the color and gender of your pick when you send your deposit. Your puppy should be chosen, (in that order color and gender) when you come to bring your new pup home. Please be considerate of the picking order as well the time of other new owners making their pick. Please make appointments no less than one week ahead of pick up.
Pups need to go home by seven weeks of age, if you have not made your pic by then, we,  Red Label Kennels, will make your pick for you according to the information you have given us.
All sales will have 4.5% sales tax added.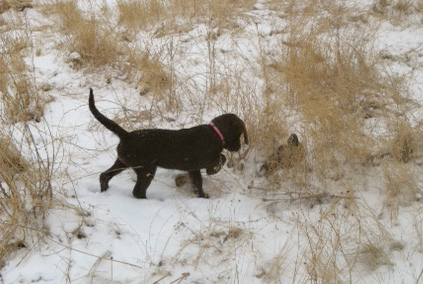 Eight week old Rock baby above on her first bird.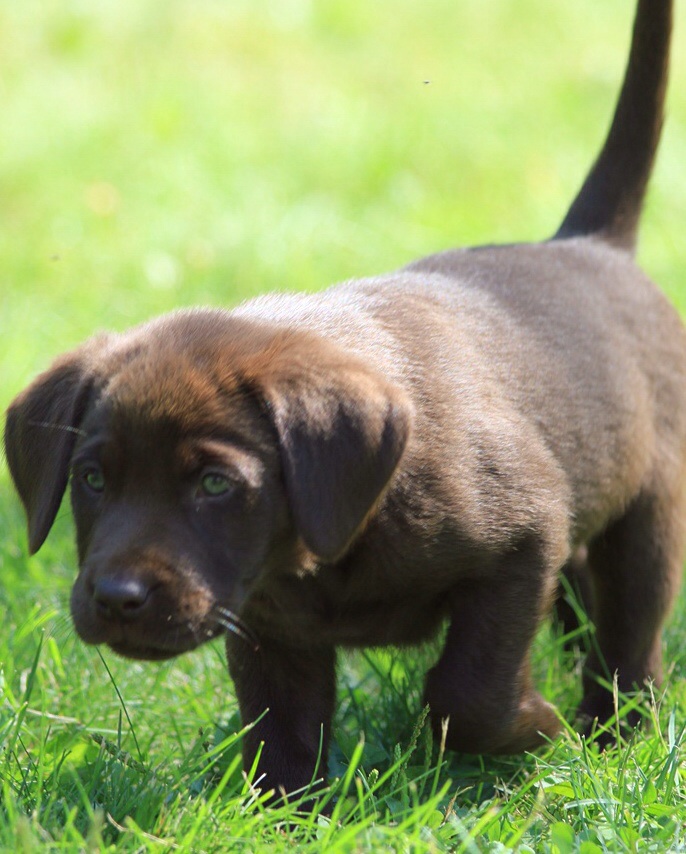 All sales are subject to South Dakota state sales tax as our business is South Dakota State registered.

(Shadow was just one year old at the time.)
| | |
| --- | --- |
| From: | Joe Herba |
| Sent: | Thu 1/14/10 8:04 AM |
| To: | scott olson (redlabelgs@hotmail.com) |
Hi Scott, We could not be happier with a dog! Shadow has had 150 birds shot over her. Hunts great, points like a Brittney and the season is only half done for us. She is amazing. Thanks again and sorry for taking your best dog ever. Ha Ha. Thanks, Joe
---
Video of a pup out of CPR Peco. This was the 2nd bird he had seen. He did a nice job after retriever work.
---
---
Our dogs are used on our pheasant hunting guide service and must show no signs of aggression. They have to get along with our clients dogs and clients alike. When our hunters are with us we expect our dogs to leave good impressions. Our dogs cant be wired so tightly that they cant enjoy a little attention from someone they just met.
Most importantly our dogs have rock solid NATURAL UNTAUGHT point or they aren't bred.

We are a registered business with the state of South Dakota and all sales are subject to state sales tax. Puppy deposits are Non Refundable if you simply change your mind, please think before making a deposit.  Pups must be picked up or shipped by eight weeks of age or deposit may be forfeited. 
All Red Label puppies come with a 26 month guarantee on OFA rated hips not to be displastic and a clear eye
cerf with OFA for 26 months. Should your pup not pass either of these clearances with in 26 months the pup will be replaced with another pup from a comparable breeding.  Red Label Kennels will replace the pup for any reason within three days from purchase for any reason. After the three day puppy return period the only guarantee is on OFA hip ratings of non displastic and OFA clear 
eye
 cerf ratings by 26 months.
We do not cover shipping or training costs or veterinary costs should you have your pup replaced.
You will have three days from the date of purchase to return your puppy if you are not satisfied. All costs other than the original purchase price are not covered and are the purchasers expense.
MPR, Master Pointing Retriever APLA's Highest level of pointing retriever test.  Dog must pass pointing steadiness triple marks blinds on land and water.
GMPR, Grand Master Pointing Retriever, dog has multiple Master level passes.
CPR, Certified Pointing Retriever, Dog must compete in APLA test event and pass pointing and retrieving standards on land and retrieving standards on water. Dogs are judged for cooperation  and ability while in actual hunting scenarios.
HR, Hunting Retriever, Seasoned dog in the UKC Hunt tests. Blind retrieves, double marked retrieves, on land and water. Diversion birds, steady to shot and fall.
HRCH, Hunting Retriever championship. Finished dog in the UKC hunt tests. Blind retrieves, triple marked retrieves. Diversion birds, steady to shot and fall. Dog must mark off the gun.
Qaa, Qualified all age, qualified to run open field trials.
AFC, Amateur field trial champion, Dog must compete in and win field trial and be handled by owner not a hired pro.
FC, Field Champion, must compete in and win Field trial handled by a hired pro.
MH, Master hunter must pass AKC hunt tests to the level of blinds triples poison birds and more.
SH, Senior hunter must pass AKC tests includes blind retrieves marked retrieves on land and water.
AKC American Kennel Club
APLA American Pointing Labrador Association