Red Label Kennels
OVER 25 YEARS OF BREEDING POINTING LABS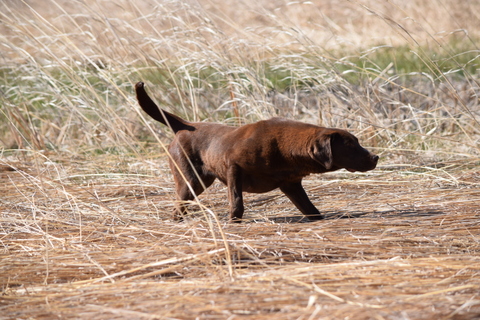 About Red Label Kennels:

Our mission is to breed healthy hunting and family companion Pointing Labs that can compete in hunt tests such as the HRC AKC and APLA (American Pointing Labrador Association). Whether your looking for a hunt test dog or that once in a lifetime hunting companion, we've been breeding pointing labs for twenty years. Our breedings are thought out and done with long term goals in mind. If you take a look at our dogs pedigrees, you will see some specific and proven genetics.
When you buy a pointing lab pup consider the fact that with food, equipment, vet bills, training expense, health tests and veterinary expenses, you may have nearly $700 annually into your dog. Those costs are the same for that fantastic, once in a lifetime hunting companion that has been bred with healthy genetics, just as for the not so fantastic dog. Considering these factors a well bred pup from parents with health clearances and documented ability is usually worth its purchase price. A pup that lends himself to advanced training can save more than the purchase price in training costs if he can be trained to advanced levels in less time.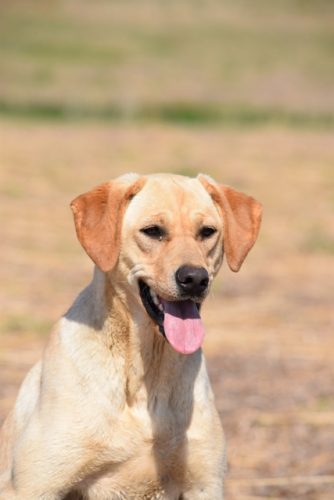 We've been raising Pointing Labradors since 1990. When we started breeding pointing labs it was uncommon to see labs being bred with point in mind. Many of those competing in tests or trials didn't want their dogs to point for fear their dog would point a shackled bird rather than retrieve it. Therefore in the early 90's it was hard to find FC AFC dogs that pointed (or admitted to it).

Before the American Pointing Labrador Associations inception we bred strictly to dogs we owned or hunted with and saw not just a flash point, but a rock solid, tri-pod, cant breath point. We were fortunate to see many dogs in action while guiding hunts in our guide service business. Our pointing lab lines are from four and five generation pointing Labrador retrievers. We have in recent years needed to breed to males outside of our lines to ensure proper breeding and to maintain a quality gene pool. As you can see by looking at our Litters page, if we breed outside males we only use the best APLA pointing Labrador and or AKC field trial pointing dogs in the nation with complete health clearances as studs.

We breed for

natural point

,

retrieving

desire

,

ease in training, hunting ability, genetic health

and

temperament

. From there most goals can be accomplished. All of our dogs are "commercial grade" gun dogs and are used on our pheasant and waterfowl guide service. Most of our clients purchase their pups to be home companions and top end gun dogs. After the sale we're happy to help with training questions. We are a registered business all sales are subject to SD sales taxes.


Red Label Kennels is a family operated kennel in the heart of South Dakotas Pheasant and Waterfowl country. We demand our dogs be great companions, guide dogs, no kennel queens here. Our dogs must be able to compete in Pointing Labrador hunt tests HRC or AKC hunt tests. Most importantly however they have to be top end bird dogs as well as family companions. All our dogs are working dogs on our South Dakota pheasant and waterfowl guide service.
Scott Olson
Po Box 133
Corsica SD 57328
605-680-0588
420 SD ave.